Marko Rubel
Real Estate Systems Selling Line
With the Marko Rubel Selling Line you can provide your potential homebuyers a way to find out about your properties and descriptions twenty-four hours a day! The Marko Rubel Selling Line does it all for your potential homeowners and lease option clients to find out about your listings without having to spend all of your time on the phone going over the same information time and time again. Features include a local or nationwide toll free number to hear your Marko Rubel professionally recorded main greeting, the ability to press 1 to locate and speak with up to four different agents in your organization, press 2 to hear up to 100 property listings with ten minute property greetings on each listing, press 3 to access your Fax-on-Demand center that can hold up to 100 documents for property flyers or mortgage applications, or press 0 to connect directly to your office. All information including all inbound callers in any date range, caller ID, time/date stamp, duration of call, and properties accessed is maintained and can be accessed via Realtor Reports using our web link interface.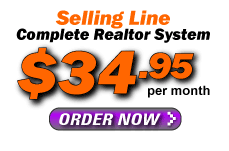 Setting:
You're an investor and have numerous property listings. It's crucial that your inbound sales calls and inquiries can get information on your listings all the time. Your Marko Rubel Selling Line could sound like this:

Your own personal local or nationwide toll free number. Please see our nationwide coverage map for availability in your area!


Locator service for your listing agents on duty. Load up to four different numbers that cascade or blast to speak with someone directly. You can change the numbers online anytime you wish!


100 property listings with 10 minute greetings each for detailed property information and driving directions to each home.


100 fax-on-demand listings to load your propery flyers or pre-qualification mortgage documents. Callers simply access the document they want and enter any fax number nationwide for delivery.


Recorded greeting of up to 10 minutes.


VC Auto Responder allows you to automatically respond to every inbound caller with a message of your choosing on a timer you set in your virtual office!


Direct dial-out capabilities give you the ability to return calls directly from your mailbox with the touch of a single button. You can also easily make long distance calls or conduct conference calls right from your mailbox.


Broadcast capabilities enable you to send voice messages or faxes to predefined groups of inbound callers to your system or you can upload your own number list to send as well. Additional charges apply.


Web interface allows you to access your voicemail online at any time to make administrative changes to your account, listen to your messages, view your faxes, or recover caller ID information.


Operator function allows you to have callers press 0 to be transferred to any number of your choice.


Music-on-hold gives callers a variety of music to listen to while connecting to your voicemail box. You can upload your favorite music as well while you are located!


Unlimited usage via a local telephone number. Toll free numbers are billed at 2.9 cents per minute with the first 100 minutes at no charge.