Marko Rubel Real Estate Systems Unlimited Foreclosure Line
The Marko Rubel Unlimited Foreclosure Line is designed for any investing professional that needs more from their voicemail service without paying premium service or per minute costs to have the maximum amount of real estate technology at their fingertips. The Marko Rubel Unlimited Foreclosure Line is for the investor that is looking to track multiple advertising campaigns utilizing numerous pre-recorded extensions with course material to know where and what marketing efforts and campaigns are working for them. Also included with this service is the VoiceConnect reverse address match service, which will automatically send an e-mail to your inbox with the caller ID, name, and physical address of the caller even if they call and hang up! Your sellers will have the ability to press zero at any time to transfer to any ten digit number nationwide or leave a message by pressing one. Most commonly connecting this service along with the VoiceConnect Live answering service to capture your seller's information twenty-four hours a day will function as a fully automated buying service. The Marko Rubel Unlimited Foreclosure Line contains the following features and capabilities: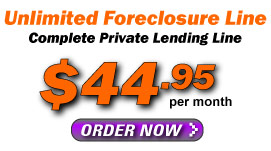 Setting:
You need a phone number that will do it all! With our professional recordings of your course required scripts on numerous extensions, what if your message sounded like this?

Your own personal local or nationwide toll free number. Please see our nationwide coverage map for availability in your area!


1000 customizable extensions with 10 minute greetings each for creating different marketing greetings or duplicating messages per extension number for marketing response data on campaigns. You can mass create and upload your extensions online 24/7!


Fax-on-demand service is included to load and documents or flyers that you would like your callers to be able to retrieve. Callers simply access the document they want and enter any fax number nationwide for delivery.


Reverse address match incuded online. You can view and store the physical addresses of all inbound land-line callers. You can build a VIP mailing list and even export the information directly to your mailhouse!


Voicemail serivce with 100 message storage capacity.


Recorded greeting of up to 10 minutes.


VC Auto Responder allows you to automatically respond to every inbound caller with a message of your choosing on a timer you set in your virtual office!


Digital fax storage with online message retrieval allows you to use your 10-digit voicemail number as an inbound fax service. Use our web interface or forward your faxes to your e-mail in .pdf format to view. You can send outbound faxes as well!


Direct dial-out capabilities give you the ability to return calls directly from your mailbox with the touch of a single button. You can also easily make long distance calls or conduct conference calls right from your mailbox.


New message notifications via e-mail, e-mail with .wav file attachment, phone, cell phone, or pager to let you know right away when your mailbox has a message. Email notification includes caller ID information.


Pre-notification e-mails can be enabled to view every inbound caller with information and extension accessed delivered to your e-mail address of choice!


Broadcast capabilities enable you to send voice messages or faxes to predefined groups of inbound callers to your system or you can upload your own number list to send as well. Additional charges apply.


Web interface allows you to access your voicemail online at any time to make administrative changes to your account, listen to your messages, view your faxes, or recover caller ID information.


Operator function allows you to have callers press 0 to be transferred to any number of your choice. You can change this number online anytime you wish!


Music-on-hold gives callers a variety of music to listen to while connecting to your voicemail box. You can upload your favorite music as well while you are located!


Unlimited usage via a local telephone number. Toll free numbers are billed at 2.9 cents per minute with the first 100 minutes at no charge.